For guidance you can also check out our YouTube Channel which has a wide Selection of How Do I video guides and our Online Documentation page which includes a range of training guides:
If you spot any of our exciting features that you think may be useful for your venue; please contact your Account Manager to discuss further.
Design Update
A cleaner and more modern design update makes v7 easier on the eye and more intuitive to navigate.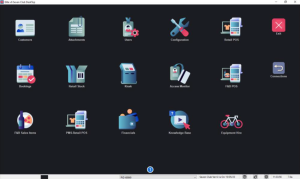 Menus descriptions are shorter and easier to find and screen layouts have been reviewed to make them easier to navigate.
Ribbon Navigation
From any session that you are running, a ribbon menu is now available at the top left of the screen which allows you to directly access any other option within Elite without the need to return to the desktop.
Pressing this will display a ribbon menu with each application available, pressing the ribbon button again will hide the ribbon.

Navigation Improvements
Numerous improvements to make navigation easier and more intuitive have been made including:
When selecting a field in a database record the record immediately becomes editable without the need to 'Accept' the record.
When editing a record menu buttons are available to move directly to the Previous/Next record without the need to 'Exit' and 'Accept back in to records.
Menus displayed on screen can simply be dismissed by clicking outside of the menu window.
Sessions can be closed down completely by pressing the X at the top right of the window.
On Panel Buttons
Many functions which may have only been accessible within a menu or via the Help button are now brought forward so they are directly accessible from the main panels.

The button colours indicate the type of function they relate to:
Blue buttons relate to a look-up or link to other relevant data.
Green buttons perform an Action relating to the current record.
Customer Engage Communications
It is now possible to send an Engage communication to a single customer via the Communicate button within a customer record.
If additional types of communications may be required please contact us for assistance with configuration.
Sales Ledger Management
As long as the user that is logged in to Elite has the permissions to amend the sales ledger, it is now not required to re-enter a password to create a journal posting.
When editing the sales ledger, a posting is automatically opened by the system.
The value of each charge that is displayed in the Balance column is now colour coded to indicate whether the amount is due to be collected by direct debit. Charges due to be collected by DD are in blue and others green. There is also a total DD Balance displayed on screen.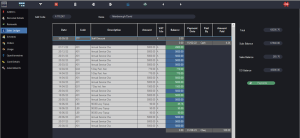 POS Colour Schemes
The F&B and Retail POS now use a new palette of colours; this may vary depending on how your system is configured but will be similar to the examplesbelow.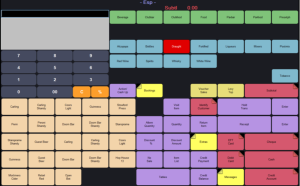 Levy Part Payment Split Discounts
If Levy Part Payment transactions are in use and there are multiple different discount percentages configured, the system can now be amended so that a proportionate value of each levy discount is applied to the transaction.
If your site offers different discount percentages based on the product group (e.g. Food 10% / Drink 20%) or based on the type of scheme issued to the customer, this may be of benefit as it allows for the correct proportion of discount to be applied to a part payment transaction.