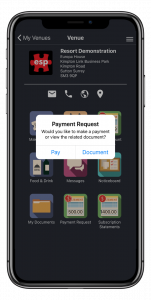 Using Elite Engage's E-Docs module, your club will save production and postage costs as well as saving administrative time for both your members and staff.
Use technology to take your club administration to the next level.
Manage Your Membership Renewal
Provide your Members with the convenience of paying their renewals online.
Efficiently produce electronic renewals directly at the touch of a button.
A simple process enables Membership Managers to produce Renewal Invitation Letters and store them electronically against the customer record. A personalised communication advises your members that their renewal is due.
Provide your Members with the convenience of paying their renewals online.
Members are able to log into their online account, or use the EliteLive app to view their Renewal Invitation Letter and then make a payment saving an administration task of processing the payment in the clubhouse.
Track and Audit who has viewed their renewal notice.
Elite tracks each members behaviour and records when they have viewed their document so that you can ensure that everyone pays the renewal on time.
Automated Statement Of Account Production
Produce automatic monthly Statement of Account generates a automated communication notifying customers of their account status and provides a quick and easy interface for them to view their document and make a payment.
Store Digital Receipts in Customer Record
Each digital receipt is stored against the customer record which means they can be accessed online or through the EliteLive smartphone app.