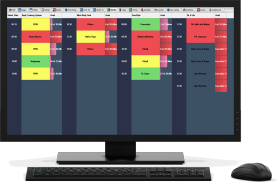 At the heart of the Elite Leisure Management solution is the sophisticated CRM module. This comprehensive database enables a wealth of information to be gathered enabling you to get to know your clients, their lifestyles and preferences. The system will improve retention levels providing operators with a greater understanding of the dynamics of their club.
Smart card technology can be used for payment, creating a cashless environment and can also be used to accumulate loyalty points or award discounts. The same card can double as an access card and locker key.
Quick button charging
Using buttons on the PoS you are able to quickly charge for activities streamlining the admission process reducing queues.
Head count
Collate accurate information of the admissions and generate reports based on types of visitor and date and time.
Variable calendar based pricing
Set your pricing policies in advance; Elite delivers automated seasonal pricing, reducing and improving yield in peak and off-peak seasons.
Members admission rate
Instant member recognition sets correct admission price at all times, ensuring high levels of customer service while maintaining financial integrity.
Ticket production
Produces proof of admission ensuring all visitors have paid the correct amount.
PIN number production for physical access points
Controlled access to specific areas for those who are entitled. This function gives you complete control of multiple areas.
No show charging
Automatically track customer no shows and review at the customer's next arrival, improving long term profitability.
Unlimited bookable activities
Support for complex venues with a wide variety of bookable activities. This function offers your site, system flexibility for potential future growth.
Template wizard
Maintain your activity calendar with easy to use templates, which defines activity pricing by date and time, making it easy to administer seasonal events and activities at different times of the year.
Capacity management
Built in capacity control ensures that activities and events can never be overbooked.
Flexible pricing
Setting your prices by customer type or days of the week and times of the day, means that all customers are charged exactly the right price at the PoS.
Diary view configurable by individual desktop
Configure an individual's booking screen view, making them more efficient and preventing information overload.
Hire items
Add automated operator prompts for sale or hire items, assisting the user to upsell and add value to the transaction.
Unlimited bookable classes
Create as many classes as you require, this function means that your operation will never outgrow Elite.
Capacity Management
Controls capacity of your classes ensuring activities and events can never be overbooked.
Minimum attendance parameters
Easily identify undersubscribed and uneconomical classes, allowing you to cancel or postpone at your discretion.
Instructors diary
Functionality that offers comprehensive management of your staff rotas and gives you the versatility to co-ordinate individual staff members with specific class types.