Elite Certified Training Programme
ESP Leisure are delighted to announce the launch of our Elite Certified Training Programme!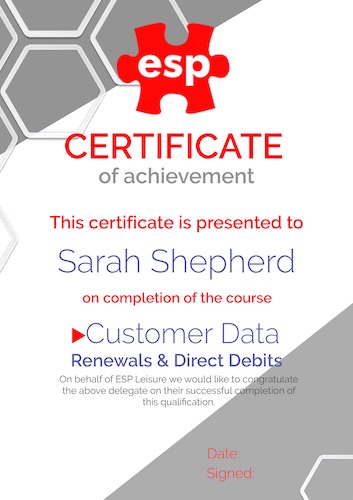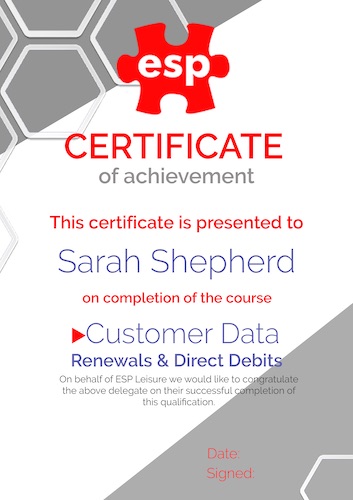 We know the importance of assisting our customers, clubs and organisations in the growth, development and retention of its staff through training. This knowledge has enabled ESP to offer our customers the opportunity to encourage learning to ambitious, forward thinking employees through our certified training.
Focused on a variety of group training courses and modular based training days, these will be suitable for new and experienced staff, giving you the chance to develop the key knowledge and skills of your team.
On completion of chosen courses the delegate will be awarded with a certificate of achievement, the certified delegate will leave the training with the ability & confidence to apply their new skills and knowledge in their role.
ESP Leisure's vision and commitment to education within the Leisure, Golf and Club sector is vital to industry success and having been an official supplier to the CMAE (Club Manager Association of Europe) for the past 5 years, they pride themselves on being a professional association which provides a forum for the encouragement, development and recognition of education and professionalism in Club Management, all of which are most certainly key factors for success in the world of business today.
We also strongly support the view that trained staff, reduce mistakes, improve efficiencies and encourage best practice as opposed to bad habits. Learning and Education should be treated as an essential line item and not the first item to be cut from plans.
That's why education combined with using a powerful and effective management solution gives you a clear competitive advantage, ESP Leisure are confident that we have both the knowledge and the experience to both provide and support the most efficient and comprehensive management solutions available today.
To find out more call 020 8251 5100 or email us at sales@e-s-p.com.